When Paul and I first started dating, I used to tell him to never buy me flowers. Why? Because I felt they were a waste of money. Fast forward 7.5 years later and I'm always complaining that he never buys me flowers. The poor guy can never win.
Truth be told, every girl wants flowers, even if only once in a blue moon. Am I right?
So this Valentine's Day I will make it easy for my husband. I WANT FLOWERS, PAULITO! A gorgeous arrangement with my favorite flowers, gerberas, like this one from Telerflora: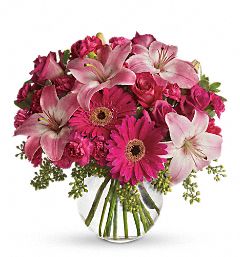 Sort of ironic that I even chose a pink arrangement considering I used to tell Paul I hate the color pink. But after having two girls, it's safe to say that it has grown on me and has even become one of my favorite colors.
This Valentine's Day all I want from my hubby is a bouquet of flowers. Something to dress up our kitchen table and brighten up our newly renovated apartment. Paul says he reads this blog. We'll all know if he truly does if I actually get flowers in two weeks. Oh yeah. This is a test.
Do you get (or expect) flowers on Valentine's Day?
Disclosure: This promotional sponsored post was made possible by Mom Spark Media. I was compensated for my time investment and work on this campaign. Thoughts are my own.